Check out Pa'Lante Apparel's founder Candace Cintrón being interviewed by Wilde Media TV at this year's Hispanic Fiesta at Penn's Landing.
Check out Pa'Lante Apparel's founder Candace Cintrón discussing her inspiration behind creating Pa'Lante Apparel on Puerto Rican Panorama hosted by Diego Castellanos aired on Philadelphia's 6ABC.
PART 1:
PART 2:
---
Date: 3/19/2010
Title: Mini Daddy
Mini Daddy
You guys have to check out the latest chulo we found below...LOL!!
---
Date: 12/29/2009
Title: President Obama
Latinos in the White House
President Obama is naming Latinos to top post at a record pace. He is on track to naming more Hispanics to top administrations than any other president. Pa'Lante!!

---
Date: 12/13/2009
Title: Cute!
¡OMG too cute!
---
Date: 11/30/2009
Title: Cute!
¡Que Chuleria!
---
Date: 10/7/2009
Title: Make It Last!
Josh Peterson wrote a helpful article on how to make your clothes last longer which can definitely come in handy during these tough times! Check it out below or click here



8 Ways to Make Your Clothing Last

If you are practical, eco-savvy and smart, then you'll find ways to make your clothing last. Here are eight tips to help you along:

1. Dry your clothes on low. Not only will this save energy, but it also extends the life of your clothing.

2. Sew up holes ASAP. A little hole isn't such a big deal, but a little hole will become a big hole. Sewing up a hole as soon as you see it will make your clothing last longer.

3. Save your buttons. Save every single button that you find. If your shirt comes with an extra button, save it. Also, if some clothes are so ragged that they cannot be reused, snag the button(s). This way, if you lose a button, there is a good chance that you'll have a matching button on hand.

4. Wash clothes in cold water. This also saves energy. Most clothes wash just fine in cold water. Fabrics hold up better this way.

5. Zip up your zippers before washing. You know how chickens eat gravel to digest food in their gizzards? Well, washing an unzipped zipper is kind of like gravel in a chicken's gizzard. Those zippers will flap around the washer and dryer, tearing at your other clothes.

6. Wash your clothes less often. You don't need to wash your clothes just because you wore it once. Give it a sniff test and wear it again. It's not gross. It's smart.

7. Cut out tags. Don't tear. I hate those little labels in shirts, when they tickle my neck. But resist the urge to pull them out. Gently cut it out with scissors, instead. You can cause a hole if you yank.

8. Use a front-loading washing machine. Front loaders are gentler, and more energy-efficient, than top loaders.


By Josh Peterson, Planet Green
---
Date: 9/28/2009
Title: 10 Cool Ways To.....
Supriya Doshi from ChicagoNow.com wrote an awesome article on ways to reuse old t-shirts. So next time you throw away an old shirt think of these helpful hints! Read below or check Supriya's blog out here.
T-shirt takeover: 10 ways to reuse your old shirts

So, instead of donating the ones you like, but never wear, here are 10 ways to repurpose your T-shirts:

1. T-shirt bag: This one is one of my favorites. Not only are you reusing something, you're getting something useful out of the deal too. It's pretty simple, and it could make a great gift or gift bag. Plus, you get to pick your pattern!

2. Pillows: I'd totally take one of these on a road trip or plane, though I'd opt for the square pillow rather than the T-shirt-shaped one. And instead of buying stuffing, you can use the leftover shirt scraps and even entire shirts.

3. Rags: This option is perfect if it's an ex's shirt or one that's too old to look good in bag or pillow form. No read directions for this one: Just tear or cut the shirt into pieces, or use it whole.

4. Pet toys: If you're dog is less destructive than mine, these toys might work for you.

5. Underwear: If you're a sewing whiz, here's a site with directions and a pattern for making your own undies from a shirt. Or, for less effort but more money, Solojones will do it for you.

6. Wall art/decor: Some T-shirts are so cute they could be artwork. So make it happen! Frame your art in a shadowbox, or use it as fabric on chairs or other furniture.

7. Quilts: Another option for you crafty ones. Quilts would make great gifts, and particularly soft shirts could end up as baby blankets

8. Scarf: It's starting to cool down again in Chicago, but one of these should help you stay warm.

9. Rag rug: Crocheting is a need-to-know for at least this tutorial on making a rug, but it might be worth learning for such an awesome, useful final product.

10. Napkins: Be super-duper eco-friendly by turning decent quality shirts into cloth napkins. Just cut into rectangles and sew!

Now that you've filled your house with T-shirt items, you might still have a few left. And you can't keep 'em all forever. So pick out a few and donate them so someone else can wear or reuse them!


By Supriya Doshi from ChicagoNow.com
---
Date: 7/15/2008
Title: Hispanic Fiesta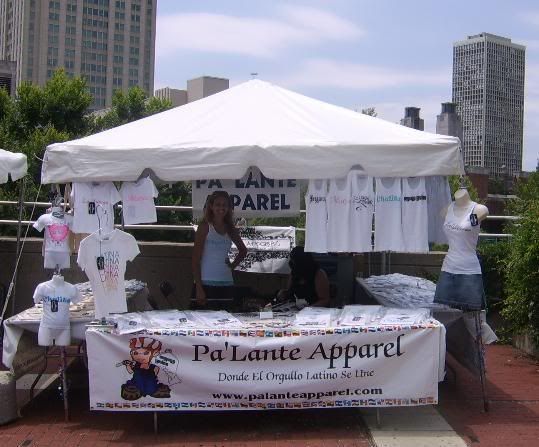 We'd like to thank everyone that took the time to visit us at our booth at this year's annual Hispanic Fiesta at Penn's Landing. We thank you all for the support, love and positive feedback!!
---
Date: 3/20/2008
Title: Calle Ocho Update

Hola Mi Gente!! Calle Ocho was a huge success for us and we would like to just take the time out to say a big thank you to all of those who passed by throughout the day and supported us!! Gracias y sigue Pa'Lante!!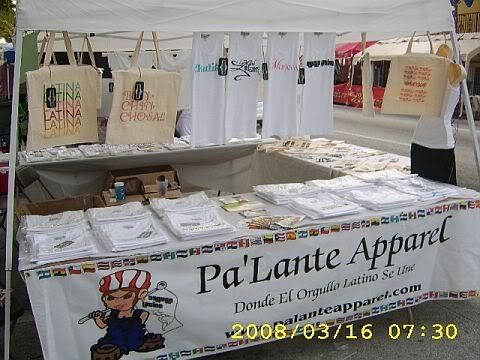 ---
Date: 1/30/2008
Title: Calle Ocho
HOLA!! Hope you all are having a happy New Year so far!! We just wanted to let you chulas know that we will be at this year's
Calle Ocho
celebrations in Miami, Florida on March 16th. We'll be partying and dancing the day away so if you are in the area make sure you come and visit us at our tent located between 22nd and 23rd Avenues!!
Pa'Lante Mamacitas!!
---